BEST ALBUMS of 2005
Because everyone else does it and I am not original with content, here is the TestPilot's List of the Best Albums of 2005. I totally agree with #'s 1 and 2 but after that, it gets really muddy as far as who tops who. In all honesty, the amount of time I was spending on this led me to post this before I debated anymore over it or copied and pasted more code. Here it is:
#1 Bloc Party - Silent Alarm
This band more, than any other, kicked my arse this year and I gobbled up everything they put out - CD's, singles, remixes. EVERYTHING. And for the first time in my life with ANY band....I became a member of the FAN CLUB! The first song on the Silent Alarm album, "Like Eating Glass", kicks you hard in the crotch, especially Matt Tong on drums.
mp3 - Like Eating Glass
EXPIRED
#2 Sufjan Stevens - Illinois
This guy totally came out of left field and took the TestPilot by storm. After first hearing "Chicago" and the many layers and directions it went, I downloaded the full album and a week later bought it. For the TP, that is unusual. Props to him for being different, not caring that he is and getting every head in the indie crowd his way. Here's hoping he makes the "oHIo!" album before to long.
mp3 - Come On! Feel the Illinoise!
EXPIRED
#3 Kanye West - Late Registration
I am admittedly more of a indie fan than most other formats but I do wander back to the hip-hop, rap and rock and roll every now and then. When this album leaked, I really didn't care for any of the songs on it. After downloading and listening to the album as a whole, I am hooked and find myself going back again and again.
mp3 - Crack Music
EXPIRED
#4 Coldplay - X&Y
A few years ago, before the Coldplay on-slaught began, I was a über-fan, seeing them 3 times in the Ohio/Pennsylvania area. That for me was enough to sit back and take some time off. After gearing up for a big release, I can say that I am pleased with what they put out. Not a big fan at first but definitely a grower, these guys knocked another solid album out that will continue the hype. The track "Kingdom Come", a Johnny Cash cover, as well as the other solid ballads on this record will make you weak in the knees, guaranteed.
mp3 - Kingdom Come
EXPIRED
#5 Doves - Some Cities
Close on the heels of their Euro bros. Coldplay, I am loving the Doves. Another band I have been a huge fan of and followed for years, this album was a total let down for me when it came out in March. After a few spins, I shelved it and swore it off. Around June I found myself singing songs from it in my head and I had to hear it again. For whatever reason, the time that it aged on the shelf did it good by me and brought it back up to the top of my list. Seeing them in September in such a small venue was a treat too. The song "Snowden" is perhaps the most beautiful heard all year.
mp3 - Snowden
EXPIRED
#6 Decemberists - Picaresque
The Decemberists are an odd group for me to listen to and talk about - and that is probably why I like them so much. Unlike anything else out there that I know of now, the old-time sound and storytelling they produce will woo you into submission. I rate these guys slightly higher than the last 4 behind them mostly for originality and a good full album.
mp3 - The Bagman's Gambit
EXPIRED
#7 Clap Your Hands Say Yeah - Clap Your Hands Say Yeah
One of the best bands that I found through all the blog hype, these guys are solid. While I don't normally go for bands whose lead singers warble like this, again, I was hooked. Good sound and good album.
mp3 - The Skin of My Yellow Country Teeth
EXPIRED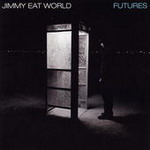 #8 Jimmy Eat World - Futures
Yeah, I said it. Jimmy Eat World. While I believe this CD came out at the end of 2004, it did not infiltrate my life until early 2005 and it had me saying 'Best Album of the Year' back in February! As you can see, that statement didn't hold out til the end of this year - there were just too many other solid showings. Nonetheless, this is the first J.E.W. album I bought and it is solid from beginning to end, especially if you are a sucker for ballads and power pop.
mp3 - 23
EXPIRED
#9 Stars - Set Yourself on Fire
I don't even remember where I heard about this Canadian but most likely from my usual blogs. After checking out a few songs that were unbelieavably catchy, I went for the whole album and came out quite impressed...so impressed that their lyric "Live through this and you won't look back" might even find itself onto my body as a tatoo one of these days!
mp3 - Your Ex-Lover is Dead
EXPIRED
#10 Magic Numbers - The Magic Numbers
Man, oh, man I would love to rate these guys higher. First hearing their demos in April or so, I was sold and scoured all the blogs and P2P services looking for some tracks, only to repeat them on iTunes straight into the ground. Later this summer, they released their full album and to me, it was a completely different sound and lost a lot of what the quiet, simple demos held. They did add a awesome track with "I See You, You See Me", but that still wasn't enough to hold them out for the gold. Here is one of the demos that hooked me, "Hymn for Her".
mp3 - Hymn for Her
EXPIRED
Falling just outside the Top 10: Deatch Cab for Cutie - Plans. I should probably have them on my list, but I don't know why I can't. Maybe it just needs more time to grow on me. Other notables who had good tracks but I couldn't stick with the whole album: Wolf Parade - Apologies to the Queen Mary, Animal Collective - Feels, M.I.A. - Arular.
Bands I should have listened to more of in '05 but will probably like a lot come '06: Tapes N' Tapes - the Loon, Rogue Wave - Descended Like Vultures.