RAP UP
BOY, isn't that a funny play on words. Seriously though, I have never posted on rap on this site yet, but these artists are getting me waaaay back into it. While each of these artists deserve their own post, for the sake of condesing content, I present them together.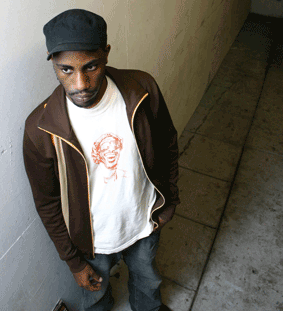 OHMEGA WATTS
-
The Find
Milton Campbell, aka Ohmega Watts, takes it back for me, to
A Tribe Called Quest
and
Black Sheep
- hopping grooves that can keep the party moving or tracks that get socially concious. Born in Flatbush, Brooklyn but now reppin' out of Oregon, his new album
The Find
"refers to both musical and personal inspiration with track themes spanning from crate diggin' dreams and musical reminiscing, to social commentary and spiritually charged story telling."
mp3 - The Find
mp3 - A Request
Buy the album
HERE
CADENCE WEAPON
-
Breaking Kayfabe
Rollie Pemberton, the 19 year old aka Cadence Weapon, has his hands into everything. Just a few minutes of surfing on
his blog
,
his myspace page
and
his website
, you can learn the dude dropped out of journalism school to produce, rap, drink, make beats, etc. HELL, he even did reviews for
Pitchfork
!
He has his debut record as both an MC and producer,
Breaking kayfabe
out this Spring where he shows off his ear for lurching, heavy beats and dense, computerized ambience. This music is heavy rap from the
Super Mario Bros.
sounding beats on acid with heavy lyrics over the top, this is hardcore.
If you are lucky enough to be at
SXSW
check him out:
March 16 Brush Square Park
SXSW Alberta Showcase/BBQ
W/ Shout Out Out Out Out and Corb Lund
March 17 Victory Grill (Inside Stage)
Vice SXSW Showcase/BBQ
March 18 Caribbean Lights
SXSW Official Showcase
W/ Classified/Moka Only/K'naan/TTC
mp3 - Vicarious
mp3 - 30 Seconds
Buy the album
HERE
DERT -
Sometimes I Rhyme Slow
José Gonzalez's
recent CD,
Veneer
gets "reworked and blended with verses from some of today's most elite underground and mainstream emcees." The new album,
Sometimes I Rhyme Slow
is "a take on fusing acoustic guitar samples with funk, soul and breakbeats. This mixtape, while not meant to overshadow the original tracks, provides a much needed 'feel-good' alternative to rap's current heavy rotation."
For comparing purposes, José's cover of
The Knife's
"Heartbeats"...
mp3 - Heartbeats (The Knife cover)
...turned into...
mp3 - The Light
ALSO check out
mp3 - 2Words
and
his myspace page
for more snippets.
Buy the album
HERE